In only two weeks it will be one year.
One year.
A thousand years.
It feels the same to me.
Some people have said to me, "Wow, one year already . It's gone so quickly!."
And for those whose rich and busy lives have continued relatively unscathed, one year can fly by.
I remember when one year flew by.
When our brand new grandchild turned one. Where did the year go?
Living in a new home and suddenly it's one year since moving in.
That first wedding anniversary.
One year since a son left home.
Staying with a friend overseas one year ago.
And yet one year can also be a thousand years.
They told me it gets easier. But they didn't tell me it also get harder.
It's true I don't cry as much.
I talk to him unselfconsciously now and love imagining his responses.
I feel his presence more than ever and laugh at the synchronicities that 'prove' he is right here with us, his beloved family.
But it's taken almost 365 days to get there and that's 365 days without a hug from him. Without a cuddle, a joke, a disagreement, a cheeky raised eyebrow, a kiss.
I have probably felt every emotion imaginable.
I have probably cried two or three buckets of salty tears.
I have been overwhelmed with the compassion, caring and love from family and friends.
I have been incredulous at the silence from those that I had considered friends.
I have been touched by the thoughtful, sweet and simple ways people who I did not really know until now, have continued to connect with me almost on a daily basis.
I have been shocked by the comments from people that I thought would have known better. An example.
A person I had not seen for a few years walked up a few months ago and with a huge smile, called out, "How's the single life treating you?" I kid you not. One of the few time in my life I was speechless.
Nearly three weeks ago I went to India. It was my 5th or 6th time but this time went with a friend.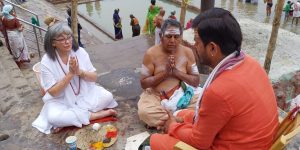 I wanted to say 'Kaddish" on the Ganges for Oren and I wanted to create a ceremony that was meaningful to me.
I started last March collecting stones from all the places Oren had lived. From his birth place in Haifa and from the gardens of all the homes we shared together.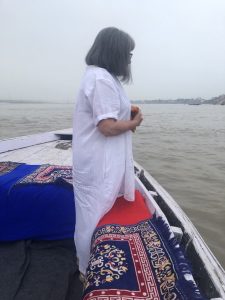 I crept into the garden in Lindfield and walked around the apartments in Randwick looking for the right stone. I wandered down to Tamarrama and to Woollahra and of course where our home is now and wrapped them in a napkin bought on our first trip to India so many, many years ago.
And as I read the Kaddish, the sacred prayer for the dead, from a boat on The Mother Ganges, I dropped the stones into the water, planting forever the physical life of the love of my life, and slowly, very, very slowly I felt a year of sorrow start fall away, one ripple at a time, into the holy waters.
And a sense of joy, warm golden honey, the like of which I had not felt for a thousand years filled my heart.
In only two weeks it will be one year. Our children have carried the grief into every day, every hour, every minute. Our granddaughters have cried, and tried to understand the impossible to understand and yet stories of stars, and kookaburras, and water dragons and King Parrots that carry the energy of their darling Aba and Saba will continue to be told for another year and another and another and another.